One of the common things we hear from companies is that they "need more leads" into their business.  But what happens when the leads come in??
How much money have you wasted on advertising that you can't track the result?
How much money have you spent on leads that just gets "blown" because your staff cannot handle it?
How amazing would it be if you have a system that could follow-up with your customers and provide exceptional service that creates recurring clients and referrals?
How much money do you think you are flushing daily on staff and systems that don't work and are inefficient?
Yes, we LOVE building systems that generate leads for businesses, however, it's more important to make sure a system WORKS and business owners see massive growth!
KH Nursing Services
My experience with LUKERCORP has been nothing short of watching a phenomenon unfold with how my business exploded in ways I never would have thought possible. They have taken my company to the next level in all aspects from New Client intake & on boarding processes, Employee on-boarding processes, building the most user friendly systems, Streamlining employee training & education systems, to marketing and designing our website and SEO & Lead Generation... Company Compliancy is the best and most efficient its ever been! LUKERCORP is a MUST-HAVE partner in business! People are really starting to talk about KH Nursing and its because of the value LUKERCORP has brought to us 🙂
Kat's Lash Lounge and Wax Studio
LUKERCORP does what they say. They deliver results. We had a year goal we met in 7 months. We had an expansion goal we hoped to meet at 3 years and in 11 months we moved into our new location and added 3 new staff members to our team. Work together with LUKERCORP and you will not be disappointed
ReSolve Home Organizing & Styling
Salinda has been the force behind my business' marketing success. She pushes the right buttons and has SEO'ed my company to the top of Google. She, quite literally, put us on the map! My Google listing gets at least 400 views per month and the phone keeps ringing. Salinda is enthusiastic about every one of her clients and gets as excited about their success as they do. Her competitive nature suits this work and you can tell she loves to see the numbers that her work has created. She is always learning more...and eager to share her knowledge. LUKERCORP has been the difference between me working my business part-time...and working it full-time PLUS hiring 5 assistants!!
LUKERCORP works one-on-one with business owners to create a plan that will not only help them meet, but exceed, their goals. We review and address three of the most important areas of a business, all of which are used together to bring massive return on investment: Technology, Education of Staff, Education of Consumer.
We use a multi-medium approach to meet your highest paying clients where they are and generate more leads than the competition.
Request Demo
Now that you have the lead....how are you going to convert them? We work side by side with business owners to turn leads into sales.
Request Demo
Statistically speaking, 80% of your future profits will come from only 20% of your existing customers.  You worked hard to get your client, keep them coming back!
Request Demo
Growth Systems for Any Size Business
We know that you work for years and even decades perfecting your skills.  Your company is considered the "expert" in the craft.  This is what you guys do best, so why would you waste your time and money attempting to handle your lead generation and growth systems when this isn't your field of expertise?
We work closely with our clients to bring high quality leads quickly and consistently. We know exactly what it is that your high paying clients are searching, we know their buying habits and we know how to get their voice on your phone.
Regardless of what it takes to obtain substantial growth in your company, Luker Corp's team builds a plan specific to you to increase leads and lower the cost per lead.  We use a multi-medium system to include pay-per-click, website design, SEO, online reputation management, lead follow-up sequences and employee on-boarding training.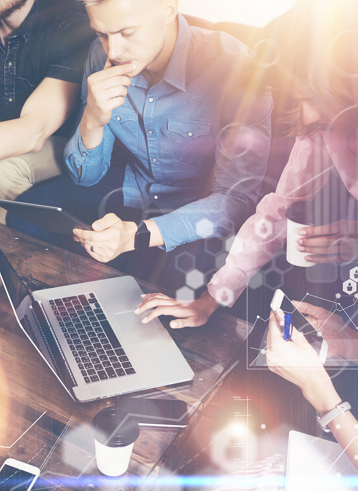 Next Steps...
Request a Digital Blueprint Session today to see if one of our Growth Systems is right for your business!